Growing up in a strong Christian family in the South, the way her parents had always chosen to punish her was not unusual, in fact it was quite common.  It was simply a fact of life in a small rural community, if you misbehave you get spanked.  It takes place in the home, in school, and a spanking in that community was just as common as football practice.  She, just as was the case with all of her friends, was spanked whenever the moment called for it, without a moment's hesitation from her parents.  As strict Christian parents believe that a spanking needs to be a serious event that will modify behavior, most of her spankings at home took place on her bare bottom.  It was a pretty common progression in that community.  When she was a young girl her little panties would be yanked down for a couple of minutes of spanking on her young bottom by mom or dad's hand.  But as is the case with all little girls, they begin to grow up, and what use to be accomplished with a simple handspanking, no longer was as effective.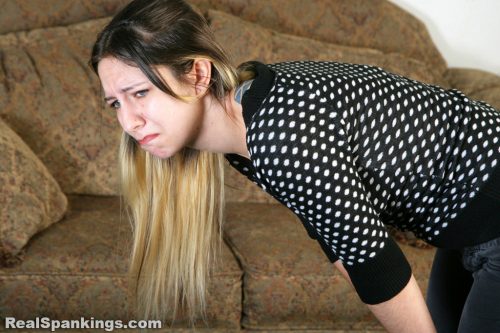 In the South, typically as a result of a very specific behavior that calls for something that makes a stronger impression, a belt is introduced to her life.  All households have several, and for generations parents have learned how effective a leather belt applied to a girl's bottom is in adjusting her behavior.  It is a simple concept…a bottom is bared, a belt is applied to it in a very forceful manner, and attitudes and behaviors immediately improve.  But as is the case in many homes, once a girl reaches puberty, the process of her discipline often changes.  Some parents elect to stop corporal punishment all together, or at least only reserve it for very specific behaviors.  They begin to discover that things like taking away her phone, or grounding her, have a better effect on her behavior.  Many teen girls would gladly take a spanking over losing their phone, any day of the week without hesitation.  Other parents choose to continue to utilize corporal punishment, but the bare bottom part starts to feel a little uncomfortable as she becomes a fully developed young lady.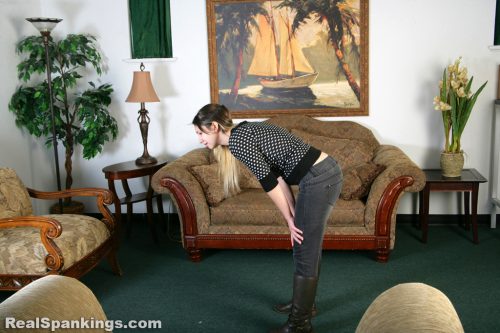 Taking a girl that is well into her teen years, that was always spanked on the bare, that is now spanked over clothing presents a new set of problems.  As someone grows older they are generally able to handle physical pain better, it is just reality.  To go from strapping her bare bottom when she was 12, to trying to accomplish the same thing with a belt over jeans when she is 17, well that makes little sense.  In many cases this leads to dad spending a little time in his workshop or garage, figuring out a solution to the problem.  Most parents learn from the school systems and follow that lead.  Schools, as a result of the inappropriateness of a school administrator spanking someone's bare bottom, learned that the most effective form of corporal punishment applied over clothing is a hard paddling.  A paddling relies more on thud than sting, so the state of dress does little to change to overall results.  For the young lady that has outgrown bare bottom whoopins in the South, she often finds herself bending over for some serious swats with dad's homemade paddle.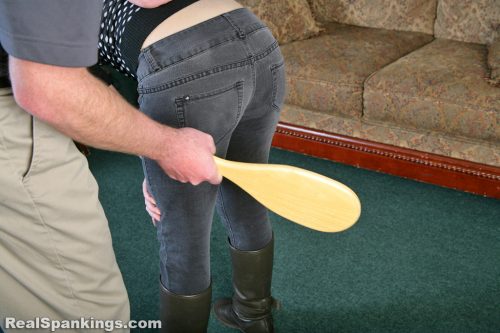 Unfortunately for the young lady in today's pictures, she is about to find out that both options are still on the table.  Her parents stopped strapping her bare bottom when she was 11 and moved exclusively to a small but thick wooden paddle.  By the age of 14, spanking was no longer the primary form of discipline, with grounding and restrictions being the primary punishment in the home.  This is not to say she was no longer paddled, as there were indeed moments in her life when one or both parents felt that a paddling was in order.  But, by the time she reached the age of 17, a paddling was something that only occurred once a month at the most.  It was generally administered on the spot, and generally as a result of her attitude or smart mouth.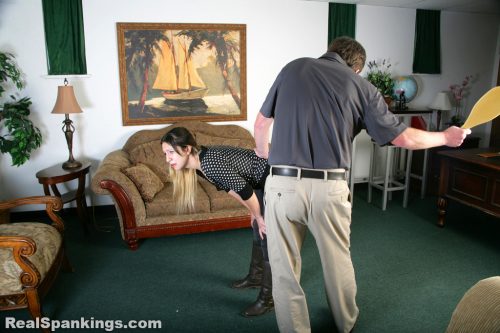 On this day, it was indeed her attitude that led to not one, but two separate spankings.  It began with dad getting onto her about the chores she had been ignoring.  He had held his tongue for a couple of days as he watched the trash build up, had to constantly remind her to put away the dishes, and saw her overall lack of effort in her part of the household chores that were her responsibility.  When he finally had enough, and called her out on each and every thing she had been ignoring, she chose to deal with the problem with attitude.  She let her smart mouth get the best of her and before she could stop herself it was too late.  She knew she had crossed the line, tried to apologize, be he had heard enough.  It had been close to 8 months since her last paddling, but she knew by the look on his face that this was about to change.  He took a moment to calm himself and then sent her for the paddle.  She tried for a quick second to find a way out of it, but it was clear that it was going to happen.  As had always been the case since the paddle was introduced into her life, she was to get it, hand it to him, and bend over and put her hands on her knees in the middle of the living room.  For her, the long walk down the stairs from her parents' bedroom was always the worst part.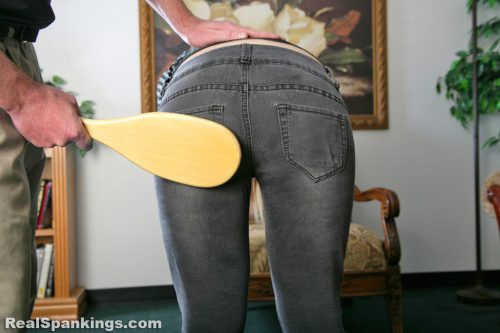 As expected, dad had moved from the kitchen and was waiting for her in the living room.  She hated the public aspect of her spankings, but she had never once been spanked in the privacy of her room, it always took place in the living room.  She knew better to complain or protest, that always made it worse, so she handed him the paddle and bent over in the middle of the room.  He had built the paddle with her little bottom in mind.  It was an oval shaped paddle, thick enough to create a sore bottom very quickly, and the size was perfect to cover one bottom cheek with each swat, and this is exactly how he used it.  As was always the process, he stepped to her left side, put one hand on the small of her back, and then got right to work.  He was never one to go light, and from the very first swat he meant business.  He raised the paddle high in the air, and with a combination of shoulder, arm, and wrist, throwing in a little rotation of his hips, he hit her left cheek full force with the paddle.  Without even a second's pause, the paddle was raised again and brought down in the same manner on her right cheek.  While she had learned from a very early age to try and cooperate with her spankings, it was never easy.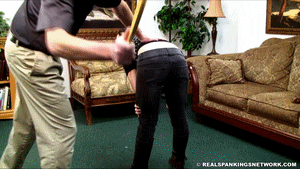 He applied each paddle swat on the very bottom of her butt cheek and he laid them all on the same spot.  He did not care about spreading it all around, his goal was to make her bottom sore.  He found the fastest way to achieve this was to spank the same two spots.  There was never a set number of swats that he administered, it was more about getting the desired results from her.  The paddling continued, long and hard, until he started to see the emotion that he was looking for. Once it was clear that learning had taken place, he finished up with another solid ten, just to assure that sitting would be uncomfortable.  As she wiped away a couple of small tears he told her to get to work on her chores and to not touch her phone or her computer until they were all complete.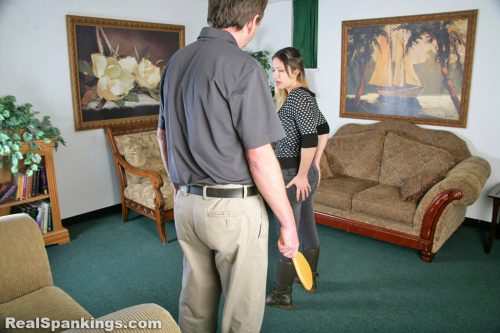 As someone who felt that she was now way too old to get her bottom spanked, she found herself growing angry about her paddling.  While she was not fully aware, she found herself beginning to stomp about the house while she did her chores.  He was listening in the living room as she stomped around being overly dramatic about her spanking.  He tried to be patient and let her cool off, but it began to get worse.  As he listened, she began to empty the dishwasher and put away the dishes.  He could hear as the plates were being stacked roughly and he was amazed that she did not break something.  Her mom had always told her to be gentle with the plates and the glassware, as they were not cheap, but she was clearly making a point through her actions and he finally had enough.  She was just paddled for attitude about her chores, and here she was doing it again, now even worse.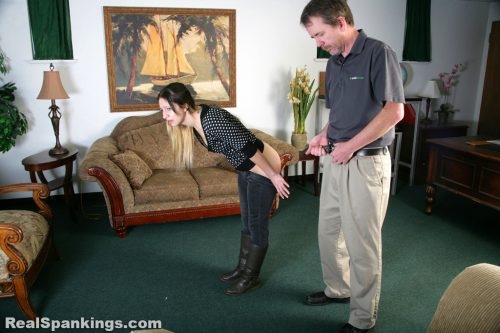 He marched into the kitchen and asked her what her problem was.  Just as before, and clearly not in control of her emotions, she snapped back at him that she was too old for "a God Damn Paddling"!  Whoops.  Not the kind of language or tone to use in that house, and certainly not the time or the place for it.  He actually smiled a little and told her that she was right, she was too old for a paddling and that it clearly did not work.  Without another word he grabbed her by the arm and marched her right back into the living room.  He placed her in the middle of the living room, the spot she had been in less than 30 minutes before, and began to undo his belt.  It had been many years since she had been strapped and she was clearly confused.  He told her that she knew the drill, and to get her pants and panties down and to bend over again.  She could not believe what she was hearing, but it was clear by the look on his face that he was serious.  She hesitated for a moment, but finally came to her senses, and slowly, for the first time in 6 years, presented her bare bottom to her dad.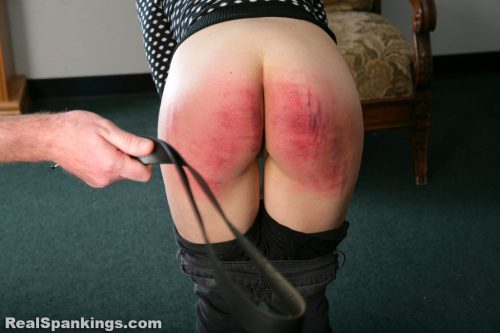 He had given her a chance by waiting a few days to complain about the chores hoping she would resolve it on her own.  That turned into a well-earned paddling, but in the grand scope of things, not the worst spanking she had ever had.  Now it was time to make a complete and total adjustment to her behavior.  When she was getting a bare bottom strapping at the age of 11, he held back a bit, but that was not going to be the case today. He bottom showed signs of the paddling with both of her cheeks showing a little purple, which was fine by him, that would make the whoopin all the more painful.  The belt was lifted high in the air and he got to work on that attitude.  He took that belt to her bottom like he had entered a contest.  He wore her bottom out as hard and as fast as he could accurately swing, and she reacted immediately.  She seemed to have forgotten how much a belt can sting because it took her just a matter of moments before the tears began to flow.  Over and over that belt was brought down on her teen bottom, and unlike the paddle, he wore her entire ass out. He started at the top of her butt crack and worked his way down until he was at the top of her thighs.  Once he was at the bottom he worked his way back up.  He made this trip up and down her bare bottom close to 10 separate times and only stopped when her entire bottom was a mess of welts and marks.  Never in his life had he spanked her twice in a row, nor had he ever spanked her this hard.  But attitude that day had brought it about, so he felt no remorse for administering the discipline she had 100% earned.  With the tears still flowing, he told her to get her pants back up and to get her red bottom into the kitchen.  He warned her that if he heard one more stomp, one more clinking plate, or another word out of her mouth, then they would explore exactly what that paddle feels like on her bare bottom.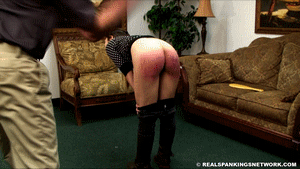 This is illustrated from the 2 part HD video and photo update at Realspankings.com that explores this exact scenario in which she is paddled over jeans and strapped immediately after on the bare.