When an older teen girl, who lives in a strict household, finds herself in a considerable amount of trouble, it is not all that uncommon for a belt to be found and for her bottom to be properly punished.  But not every parent in this world chooses to punish the exact same way, and for many young women, a belt to the bottom is just the beginning of the punishment.
There are indeed those parents out there that feel that every serious punishment needs to be an event and not just as simple as a spanking.  They want to provide an experience that they are quite sure will have a very real effect on their daughter's behavior, and it will indeed involve more than just a sore bottom.
Take for instance this young lady. Earlier this week she misbehaved and her dad let her off with a warning, instead of the handspanking he should have given her.  Well, as you would expect, when she was allowed to get away with her actions without any consequences, she ended up repeating the same undesirable behavior again.  Having learned from what was clearly his mistake, he decided to take care of things the right way this time.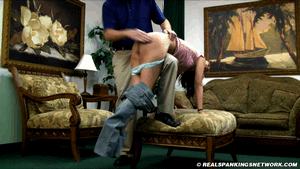 To start things off, she gets the handspanking that she should have had earlier in the week.  It does not matter that she is 18, and it does not matter that they are in a common area of the home.  Her pants and panties are pulled down and dad hoists her up and over his knee.  With her feet off the ground he gets right to work, putting everything he has into the teaching her the lesson that she should have already been taught.  He spanks as hard as he can and in no time she is in tears with her entire body quivering under the force of the hard spanking.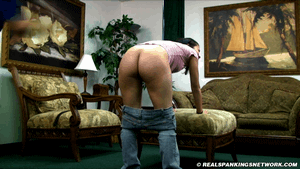 Once her handspanking is complete, it is time to address the fact that she repeated this behavior just days after she received a warning.  Dad sees this as a second offense and has no choice but to use the belt.  He removes his belt and tells her to turn around and bend over.  As he folds the belt in half, he realizes that it is far too thin to get the job done, so he heads for his room to get the belt that he knows is the most effective in blistering her bottom.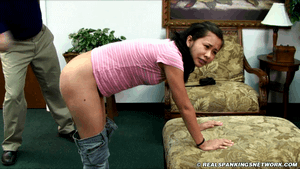 With the new belt in hand, he wastes no time and gets right to work.  With the thick and heavy belt, each stroke brings a new level of learning and the tears come quickly once again.  Dad tears her little teen bottom up, knowing that lessons are learned the best when sitting becomes difficult.  As he approaches the end of her whuppin, she makes a very big mistake.  After a particularly hard stroke of the belt, she screams "Son of a BITCH", which was exactly the wrong thing to do.
Dad grabs her by the arm and pulls her over to a hard surface for a little corner time.  With her bottom on fire, and now on display, he has her press her nose against the wall as he heads off to find something to clean out that dirty little mouth with.  He has not washed her mouth out since she was a little girl, but he never hesitates to do whatever the situation calls for.  He finds the soap, but decides to leave her in the corner for a full 30 minutes so she can consider what is about to happen.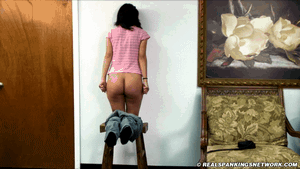 With her pants and panties still around her ankles, he drags her off to the bathroom to address the little issue of her naughty mouth.  He makes her hold her mouth open as she watches him lather up the bar of soap.  When the soap is covered with suds, it makes its first trip into her mouth.  There is nothing gentle about his approach, and she quickly learns that a mouth soaping can indeed be made to be a severe punishment. He coats her entire tongue with the suds and then gets to work on the rest of her mouth.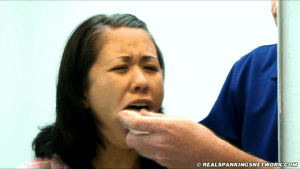 Every 30 seconds he pulls the soap out of her mouth just long enough to get it fully covered with suds again.  The bar then goes right back in and the punishment continues.  He makes sure that no part of her mouth is untouched with the bar.  He completely coats her tongue with the nasty white paste, both top and bottom.  He covers the top of her mouth and then begins to brush her teeth with the soap.  He grinds it deep onto her teeth leaving large slivers of soap stuck in every possible place in her mouth.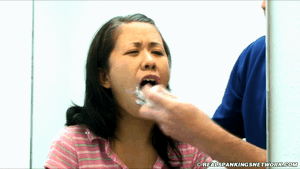 With each trip into her mouth the frothy mess further teachers her about being a proper young lady.  He makes her repeat the vulgarity, assuring that there will be a long term association between her choice of language and this punishment.  Each time she is required to speak, the soap drains a little into her throat as well as spills down her chin.  He further reinforces his point by using the bar of soap to rub the nasty goo around the outside of her mouth.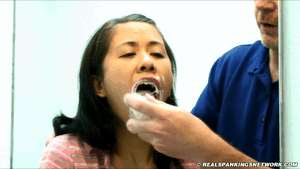 She is required to watch herself in the mirror for the duration of the punishment, so she can see exactly what her behavior has caused.  He makes more than a dozen trips into her mouth, for more than five full minutes, assuring that such behavior and language will occur in his presence again.  On several occasions he has her hold the bar of soap between her teeth as he further explains exactly how he feels about her behavior.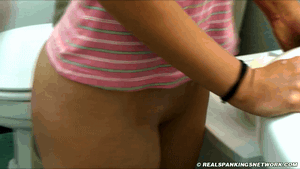 Once the mouth soaping punishment is complete, it is time to finish the spanking that was stopped as a result of her foul language.  There is no room in the bathroom to finish up with the belt, but he knows how to make a handspanking hurt just as much.  The bar of soap is once again placed in between her teeth and he gets right back to work on her still bare bottom.  With the soapy froth leaking from her mouth he spanks her long and hard with his hand until the tears begin to flow again.  When the spanking is complete, she is required to hold the bar in her mouth for five more minutes before she is allowed to rinse.
This post was illustrated from the very intense, two part, HD video from the member's area of Realspankings.com