I feel that it is safe to say, that when a girl lives in a home in which corporal punishment is still used well into her teen years, the belt is the most common implement used, especially in the US.  There are many reasons for this, but the primary one is effectiveness.  While in our fantasies, we would love to picture an 18-year-old girl, in a very strict home, dropping her pants and panties for a bare bottom spanking, this is not typical for a girl that age.  Even in those homes in which bare bottom spankings were the norm at some point in her life, there is generally an age in which this becomes less common.  This is what leads most parents to the belt, as they need something that will still teach a good lesson when used over clothing.
As someone who has an endless fascination with the corporal punishment of teenage girls, I am very pleased to see a brand-new series recently launched by Realspankings.com.  In this new series, they fully explore the effectiveness of corporal punishment with a belt, applied over clothing, to the female bottom.  What makes this extra special is the realism of the punishment.  Each participant is sat down for an interview prior to the whoopin they receive.  They discuss their thoughts on corporal punishment in the home, and share in detail their own experiences being spanked by mom or dad (if they were spanked growing up).  One of the most recent ones was fascinating as Devon described bare bottom OTK spankings she received from her mom, typically with a wooden spoon, well into her teens years.
What makes these scenes very powerful is the fact that each girl is given a "cold strapping", meaning that they were not spanked at all before this scene.  Each of the girls shows us their bare bottom before the strapping, and in all cases there is not the tiniest bit of pink at all.  I find this to be important as no teen girl gets any sort of warm-up prior to her bottom being worn out with a belt.  After the interview he gives them each a realistic scenario to help get them into the right mindset, things like getting caught texting and driving.
Once the scenario is explained, the spanker is no longer nice and then marches them to the place in which they will be strapped.  Unlike what you see in many spanking videos, these strappings are the real deal, and administered exactly like an angry dad would to his daughter.  The belt that is used is one of the biggest I have ever seen and it is clearly effective.  There is absolutely no warm-up, with each swing of the belt being full force.  These are not small swings that only involve the arm or forearm, these are full body swings meant to teach a lesson.  Each girl is given 30 full-force strokes with the extra heavy leather belt, with no break at all.
There are two cameras to capture the action, both a face and a butt camera. When the punishment is over, the girls are asked to sit back down and talk about the experience.  Most importantly, they are asked if that would change their behavior. A couple of these girls are still in their older teens, so it is quite realistic as they are only a couple of years out of high school.  The reactions are mixed, from tears to giggles, but it is clear that none of them would likely want to repeat such a punishment again anytime soon. After the final interview, they are asked to bare their bottoms and show the results.  As you would expect, all bottoms are as red as can be, but in most cases they are also bruised.
This new series shows the very real results from a proper punishment spanking with a belt and demonstrates why it is used so frequently on teen girl's bottoms.  Every girl, even those really into spanking, did not like the experience at all and said that it would change their behavior is they still lived at home, and their parents used this type of discipline.  Below are some pictures and animations from this new series…I cannot wait to see the next one.  All scenes come from the HD videos, in the new series, at the member's area of Realspankings.com.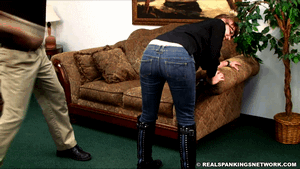 Tags: Belt, bruised, bruised bottom, corporal punishment, dad, discipline, strap, strapping, tears, Teen, whoopin, whuppin, 打屁股